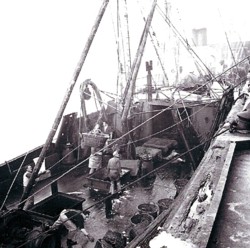 In the 1960's, Aberdeen was one of the worlds great fishing harbours. Boats came in from the wild northern seas at all hours of the day and night. They laid their catches out in the fish market where trading was well underway by 5am.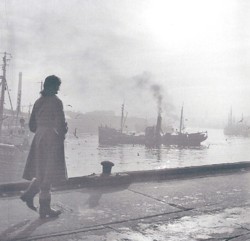 There was a heavy smell of fresh fish, but this was overlaid with coal smoke from the "beautiful" steam powered ocean going trawler, and the odour of the many smoking houses.
The lady in the Mac was hurrying to meet her husbands boat - it was always a relief to see him home safe. Not all came back.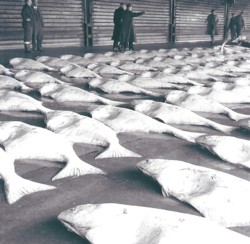 The Princess Broara docked with a 20 ton catch. Ten tons were line caught Halibut which were laid out on the market floor like soldiers on parade. Each fish was over five feet long. There were also boxes and boxes of large Cod and others.
In a corner of the market a table held Salmon caught in the River Dee that ran through the harbour. (AberDEEn?)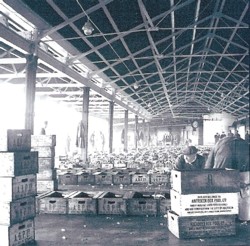 In another area, boxes of Kippers and Arbroath Smokies were on offer. A fiver bought you a case of each - and change!
About fifteen years later on, catches were smaller and the Halibut did not make three feet in length.